Information for visitors
How to get there
Fantaisie Palace is situated about 9 km from Bayreuth. You can go there by car in about 20 minutes, on foot in about 90 minutes.

Arriving by car or coach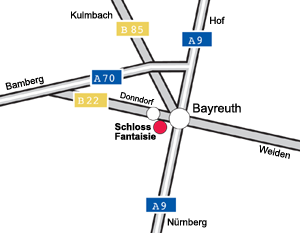 Coming from Bayreuth take the road B22 towards Hollfeld until you reach Donndorf/Eckersdorf.
Close to the palace there are only parking spaces for cars available. Parking spaces for coaches you can find near the town hall at Donndorf. Passengers can be set down at Fantaisie Palace.
Route planners are available on http://auto.abacho.de/routenplaner/.
Fantaisie Palace on Google maps:


---
Arriving by public transport
Take the train to Bayreuth, then bus number 8231, 8433, 8446 or 8449 towards Donndorf to "Fantaisie"; from ZOH take bus number 325 to "Hotel Fantaisie".
Information on the railway you can find on www.bahn.com.
Timetables for the local bus lines are available on www.ovf.de.
For information on intercity bus lines and further means of travel please have a look on the Internet.
| top |