Garden Museum
Room 16 – White Hall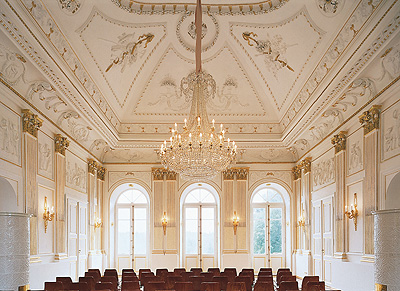 The banqueting hall was enlarged from 1763 under Duchess Friederike Sophie. It acquired its present form under Duchess Dorothee Sophie. In 1793 she gave the Rococo hall with its green frescoes an elegant neoclassical interior.
The stucco decoration identifies the White Hall as the banqueting hall of a garden and summer palace. The theme of the ceiling decoration is the four seasons. In the northeast corner a basket of flowers represents spring, the southeast corner has sheaves of corn indicating summer, in the southwest are baskets of grapes for autumn and in the northwest weapons and hunting horns symbolizing winter. The twelve months are represented in the medallions by puttos at play.
The gods depicted in relief on the wall panels represent the vegetation cycle of the year, with Flora symbolizing spring, Cybele summer, Bacchus autumn and Diana winter. The central relief on the west side shows Vulcan in his smithy, representing the cold half of the year, while the sacrifices to Flora and Cybele depicted on the opposite wall symbolize the warm seasons.
---
| top |