Things to know about your visit
Information for people with a handicap
Here you will find some information to prepare your visit to Fantaisie Palace if your mobility is restricted or if you are visually or hearing impaired.
---
Short film about Fantaisie Palace and Park
Join us for a short walk around Fantaisie Palace and through the picturesque park:
to the film "Schloss Fantaisie" on YouTube
---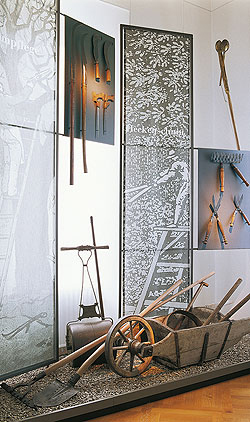 Plan of Fantaisie Park
Here you will find a plan of Fantaisie Park.
Photography and filming
Photography and video recording for personal use only is permitted in Fantaisie Palace and Park (in the palace only without flash or tripod). We regret that wedding shootings inside are not possible. Special permission is required – and there may also be a charge – for all photography and films taken for further use, as well as for the flying of drones / multicopters.
Bulky items
Bulky items may not be taken into the Garden Museum. Lockers are available for large bags, rucksacks, photo equipment etc.
Food and drink
No food and drink may be taken into the museum area. There is a café that can be reached from the palace foyer without barriers.
Free buggy hire
For conservational reasons you may not take your child's pram or buggy into the exhibition rooms. Free buggies are available for the duration of your visit.
Dogs
No dogs or other animals may be taken into the Garden Museum. We cannot offer supervision for animals brought along. Please keep dogs on an lead in the park..