Information on your visit
Opening hours, admission fees and guided tours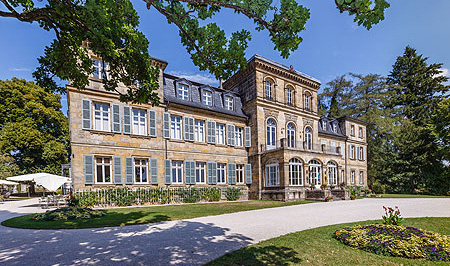 Opening hours
April-September: 9 am-6 pm
1-15 October: 10 am-4 pm
closed Mondays
closed 16 October-March
The park is open all year round (admission free).
Waterworks: May to October daily 9 am to 6 pm every full hour
Admission fees 2023
Fantaisie Palace/ Garden Museum: 3.50 euros regular · 3 euros reduced
Combination ticket "Die Welt der Wilhelmine" (all sights at Bayreuth):
18 euros regular · 16 euros reduced
Free and reduced entrance
Children under 18 are admitted free of charge.
Parents or adult supervisors have the sole duty of supervision for underage children and adolescents (up to the age of 18) and may be liable to pay compensation for the behaviour of minors in accordance with the legal requirements if they breach their duty of supervision. Likewise, accompanying teachers and group leaders are responsible for the behaviour of minors in their care. Children under 14 years of age may only enter the objects of the Bavarian Palace Department if accompanied by an adult supervisor.
Students over 18 from general schools, vocational schools, special schools and schools for sick children in accordance with Article 6 (2) of the Bavarian Education Law (BayEUG) are also admitted free on production of a student identity card.
Students from "second chance" schools (evening schools leading to intermediate or higher secondary school qualifications, colleges) in accordance with Article 6 (2) No. 1e of the Bavarian Education Law and language school students are not admitted free of charge.
Further details about reduced admission fees, free entrance etc you will find in our general information.
With one of our annual season tickets or 14-days-tickets you can visit over forty of the most beautiful sights in Bavaria!
Guided tours
There are no regular guided tours through the museum; special tours through the park on request.